We often blame our kids for their addiction to cell phones, but what about us? What do we do differently? File photo: Agence France-Presse
">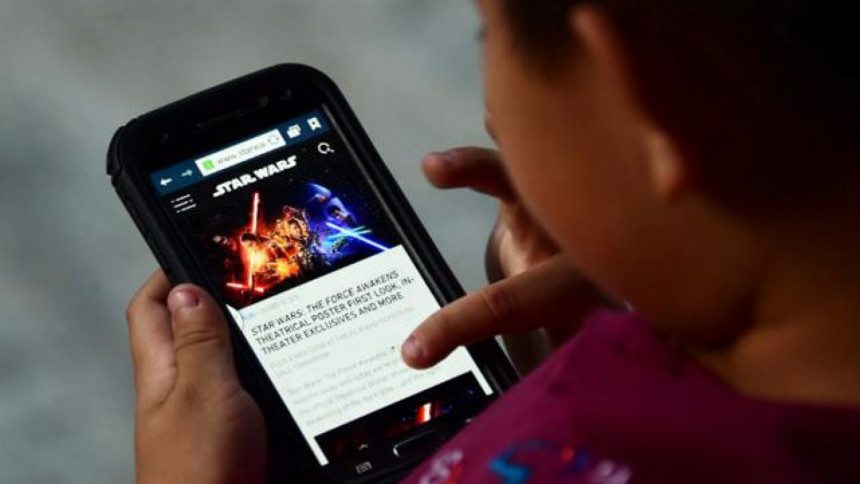 We often blame our kids for their addiction to cell phones, but what about us? What do we do differently? File photo: Agence France-Presse
Addiction to digital devices, especially cell phones, has been a major concern in recent years. Not everyone, from children to the elderly, can think of spending a moment without electronic gadgets – whether it's playing games, watching movies, or navigating through social media channels. People nowadays suffer from a condition called "sleep phobia", or the fear of not using a cell phone.
Recently, I came home from work to find my whole family using their cell phones while they were in bed together.
After a while, I joined them. My sister spoke to me briefly, but we didn't have any eye contact while talking.
I think this is the usual everyday situation for most of us. However, we rarely think about it much. Even those who care seem not to pay attention to these issues in their private lives.
We often blame our kids for their addiction to cell phones, but what about us? What do we do differently? It's up to adults to start spending less time looking at screens at home. When my nephew sees me reading books or writing something, even though he cannot read or write, he still takes out a pen and paper for himself. He draws what he loves, but at least he doesn't use mobile devices. So, if we want our children not to use cell phones excessively, we must stop doing that first.
In most cases, parents' obsession with cell phones directly affects children, causing passive obsession. Again, it may expose technology-based interruptions in parent-child interactions.
It has been a common scenario that we first give cell phones to our children, so that they do not bother us when we deal with them in another way. We do this to distract them while eating as well, to avoid any annoying behaviour. Hence, children become addicted to cell phones.
Basically, we don't want to spend too much time with our kids, which leads to cell phone addiction. However, while we blame our children for it, do we ever realize that we are responsible for it? The sooner we know our mistakes, the faster the solution.
According to the recommendation of the World Health Organization, a digital gadget, mobile phone, laptop or telephone should not be within the reach of a child under one year of age. Children between two and five years old can use their phones for one hour per day.
But, not to mention following the World Health Organization's guidelines, it has more to do with how ignorant most of us are. The research also found that most parents are not at all interested in stopping their children's increasing habit of smartphone use. In many cases, they are happy to see their children's different abilities when using a smartphone. Most parents find nothing wrong with this preoccupation with technology and social media and continue to ignore the harmful effects of spending too much screen time on their children.
So, before claiming that the situation is out of control and that children are bound to be addicted to mobile devices, we must think about the effective interventions we are taking to end this addiction.
Muhammad Sohrab Hussain Senior Research Assistant at the Brack James P. Grant School of Public Health, Brack University. Contact him at sohrab.hossen@bracu.ac.bd

#Childrens #Smartphone #Addiction #Parents #Responsible